Diversity, Equity, Inclusion, and Belonging Report
Jackye Clayton (she/her), VP of Talent and DEI at Textio
Letter from Jackye Clayton
When I joined the team at Textio, I joined a group of individuals who sincerely care about creating a more diverse and inclusive company. They were doing all they knew to do—and they recognized the need for an expert to come on board. They wanted someone to assess their shortcomings and help them make more impactful change.

We've made significant progress since then, and I'm proud—but we're far from perfect. We have much still to do.

I'm pleased to share our first annual DEI report. In it, I cover what I saw and did in my first year at Textio, the programming and initiatives my team has put in place, and what more we have planned. I also outline the impact we've had, including the changes in demographics in our hiring year over year.
My hope is to provide a clear and honest look at our work, and the work we still have to do.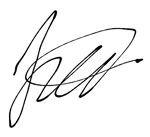 Jackye Clayton (she/her)
VP of Talent and DEI at Textio
Download the 2022 Diversity, Equity, Inclusion, and Belonging Report
There is no one-size-fits-all inclusion solution for every organization. After getting a better understanding of what DEIB looked like at Textio today, how we got there, and what was needed to make Textio an inclusive and psychologically safe environment for all Textios, I made a plan.
We would build a multi-prong approach to DEIB. Solutions would be broken down into three parts: individual, interpersonal, and systemic.
It became clear what we needed to do:
We needed to change systems to reduce bias in the interview process.

We needed to fill the pipeline with more candidates from diverse communities.

We needed to recruit and hire with intention.
We did all that and more.
Key programs in the first year
The biggest mistake organizations can make when trying to implement a DEIB strategy is to start by adding people from diverse communities without looking at the existing culture.
The first step I took was hiring a DEIB Program Manager to focus on the personal and interpersonal aspects of DEIB. It was important to me that we have someone in the role with a point of view different from my own.
We were lucky enough to add a team member who has had many years looking at DEIB through the education lens as well as his own personal exploration. Gordon Louie joined Textio in January 2022. Together, we architected a series of DEIB programs at the individual, interpersonal, and systemic level. You can read more about each of these types of programs in the full report.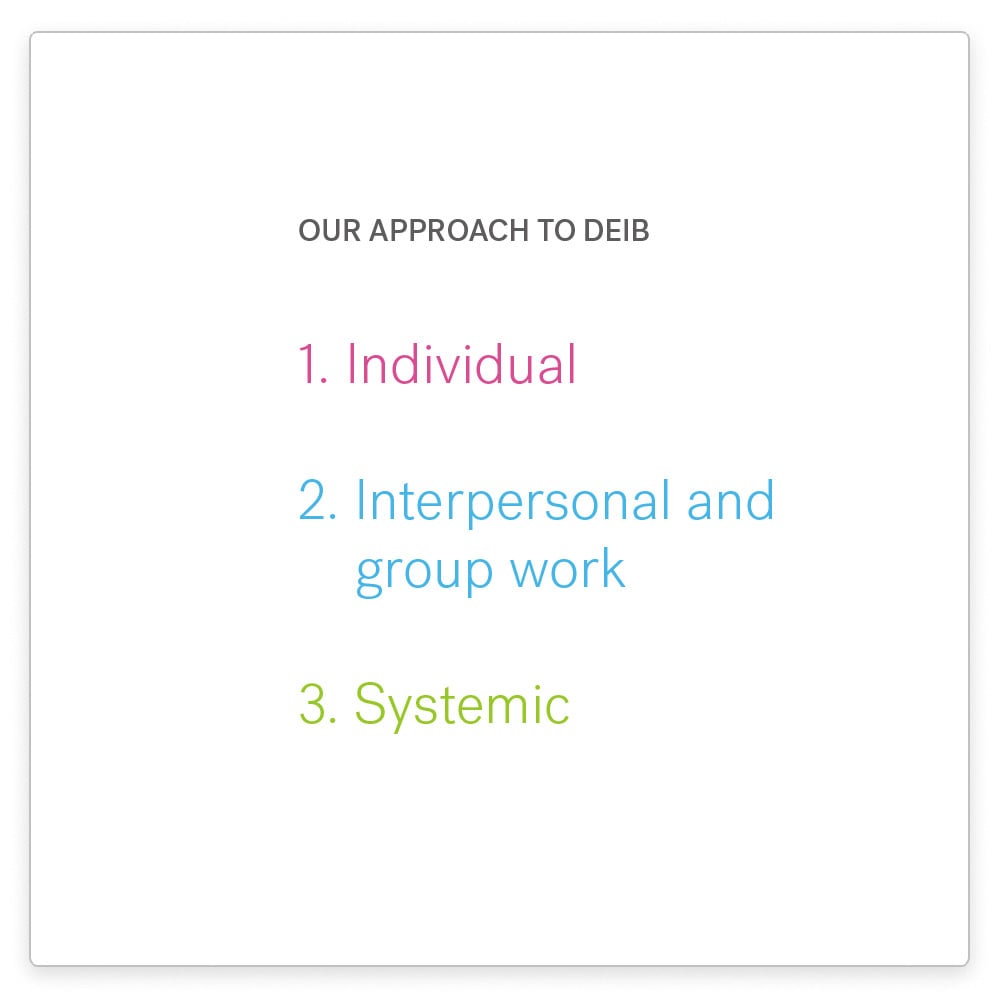 Our investments are having an impact. You can see the difference in our team hiring year over year, comparing our 2021 hires with our hires so far in 2022.
Women hired at Textio
(among those who self-identified gender)

Hires identified as having a disability
(among those who answered this question)

Hires race/ethnicity
(among those who self-identified race)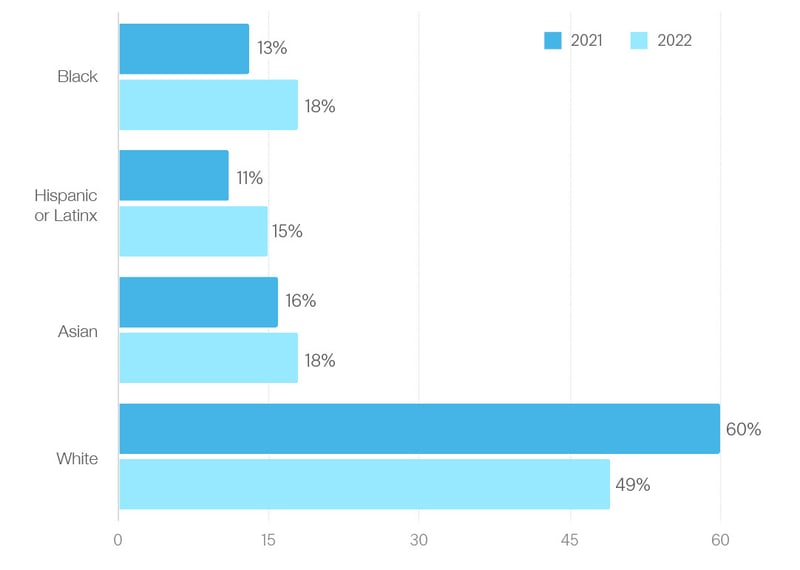 We can use this data as a benchmark as we become more systematic in tracking this internally year over year. At this stage of Textio's maturity, ongoing measurement is a key part of our strategy.
Gender (% of employees
choosing the identity, may choose 1)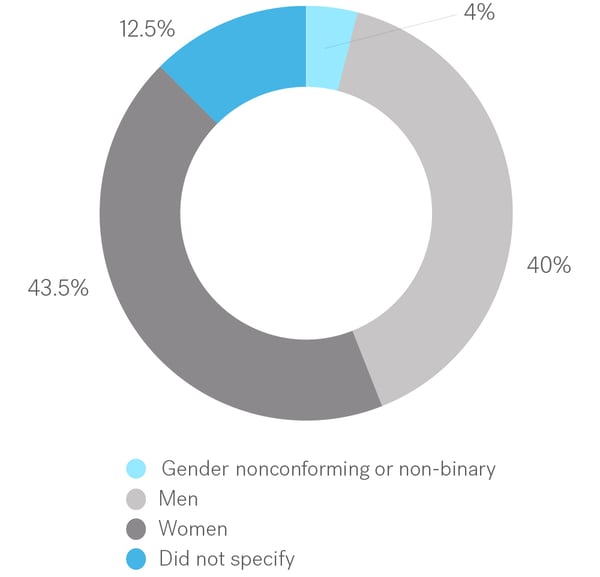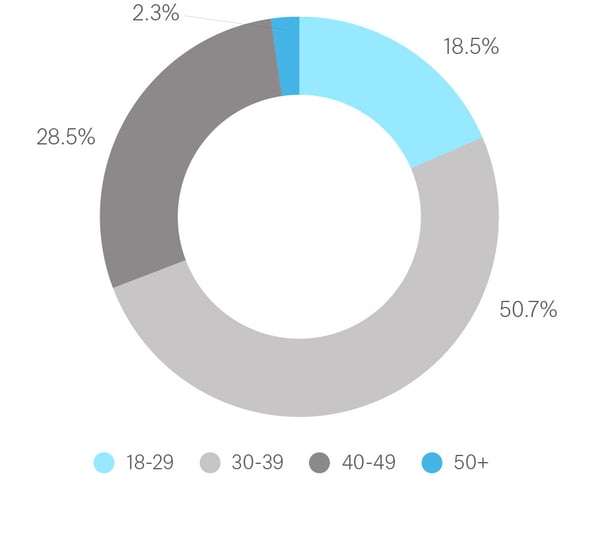 Race/ethnicity
(% of employees choosing the identity, may choose up to 3)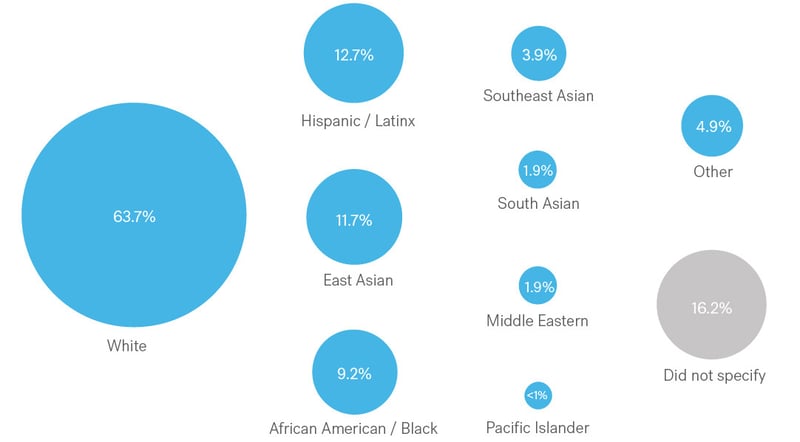 What's ahead: Programs in progress and future items
Executive team inclusion reporting
We are implementing monthly meetings with all execs and recruiters to review the demographics of their team and determine the voices missing.
Diversity coaching sessions
In conjunction with the inclusion reporting, we will be offering DEIB coaching to help our managers build their DEIB muscles and ensure a psychologically safe place for all Textios.
Ensuring managers are giving effective and equitable feedback
Our team will use Textio to write all performance feedback, ensuring that all employees have the chance to receive the high-quality, actionable coaching on performance that drives growth.
We will be creating more webinars along with other departments to share internal DEIB practices at a high level with the broader ecosystem. Our first, on inclusive interviewing, is already complete—see it here.
Creating inclusive environments is exhausting. Sometimes, you can get DEIB fatigue. We will be having healing circles to allow people to have a place to share their thoughts and feelings. A place to heal.
Supplier diversity program
A diverse supplier is a business that is at least 51% owned and operated by an individual or group that is part of a traditionally underrepresented or underserved group. Common classifications are small-business enterprises (SBEs), minority-owned enterprises (MBEs), and woman-owned enterprises (WBEs). Over time, the definition of diversity has expanded to businesses owned by other minority groups such as LGBTQ+, veterans, and proprietors with disabilities.
Download the 2022 Diversity, Equity, Inclusion, and Belonging Report
Jackye Clayton (she/her), VP of Talent and DEI at Textio
Jackye is an acclaimed thought leader and inspirational speaker on recruiting and DEIB topics. She brings years of experience recruiting across a variety of industries including tech, HR, legal, and finance. In her role as VP of Talent Acquisition and DEIB, she leads all related work at Textio, provides critical expertise to customers, and serves as a leading voice in the products Textio creates for the broader ecosystem. Jackye has been named one of the 9 Powerful Women in Business You Should Know by SDHR Consulting, one of the 15 Women in HR Tech to Follow by VidCruiter, and is on the Top 100 list of Human Resources Influencers by Human Resource Executive Magazine.